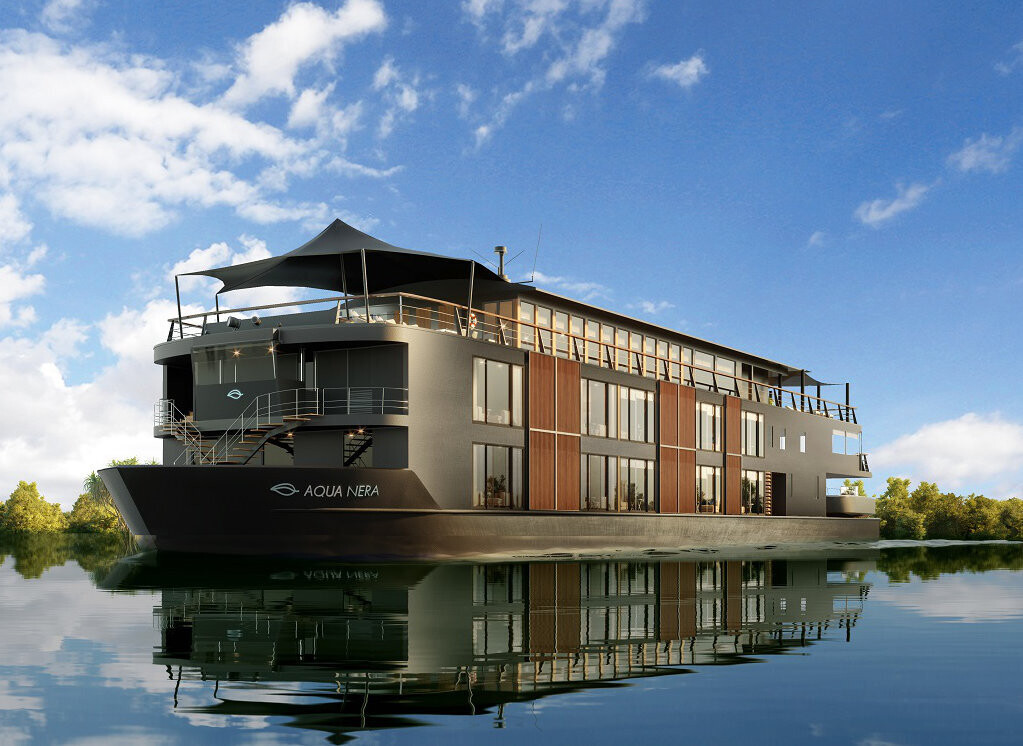 Peru, Aqua Nera
Référence PERNLCROAQUANERA
Détails du produit
AQUA NERA


Ontdek de luxe en stijl aan boord van onze gloednieuwe Amazon riviercruiser Aqua Nera
De Aqua Nera zet een nieuwe standaard voor luxe riviercruises op de Amazonerivier en is geïnspireerd op de mystieke lagunes van Blackwater, een mysterieus eiland, en is uitgewerkt in de eigentijdse stijl en het luxueuze interieur waar de cruiseschepen van Aqua Expeditions bekend om staan.
Aan boord van de Aqua Nera richten de bekroonde architecten van Noor Design elke ruimte tot in de puntjes in. De 20 ruime designsuites van het schip stralen een gevoel van rust uit zoals het Amazonewoud zelf, terwijl de gemeenschappelijke ruimtes ingetogen elegantie met een vleugje drama uitstralen. Accenten en details uit het tijdperk van de rubberboomplantages en de kleurrijke culturen van Portugal, Spanje en Peru zijn smaakvol verweven in het ontwerp.
Aqua Nera werkt samen met Aria Amazon en neemt gasten mee naar de Peruaanse Amazone in alle luxe en met gerechten van Pedro Miguel Schiaffino, een van Peru's topchefs, bekend om het creëren van verfijnde gerechten met Amazone-producten. Ervaren natuurgidsen organiseren excursies in kleine groepen die de gasten trakteren op intieme ontmoetingen met dieren in het wild in 's werelds meest biodiverse regenwoud.
SHIP SPECIFICATIONS
Year Built: In Progress
Year Operational: 2020 (Inaugural voyage July 2020)
Cabins: 20 suites across 2 decks
Ports of Embarkation: Iquitos (Peru)
Vessel's Registry: Peru
Type of Vessel: River Expedition Vessel
Length: 62.4 meters / 205 feet
Beam: 11.5 meters / 38 feet
Draft: 1.5 meters / 5 feet
Cruising Speed: 12 knots
Electricity: 220 volts
Engines: 2 x Caterpillars, Tier 3 Emission compliant
Generators: 2 x Caterpillars, encapsulated for noise reduction
Water: Reverse osmosis and UV water treatment plant
AC: Central air-conditioning throughout
Laundry: Complimentary service (no dry cleaning on board)
Safety: ISM Compliant
On Board Living and Social Areas
Sun Decks
Indoor and outdoor bars
Indoor dining room and outdoor private dining
Screening room with theater-style seating
Outdoor cinema under the stars
Games room with pool table
Outside shaded lounge with single and double day beds
Antique and artisanal boutique
Lobby lounge
Observation deck with outdoor sunbeds
Top deck gym overlooking the river
Infirmary with onboard medical staff
Outdoor top deck plunge pool with private cabanas
Two spa treatment rooms, one single and one double.
AMENITIES
Equal measures of luxurious style and immaculate comfort on board the Amazon's finest cruise ship
With a distinctive design philosophy and a spacious layout, Aqua Nera is built for ultimate enjoyment and relaxation on the Amazon river, with amenities that are second-to-none.
Observation Deck
Opening up to the vast Amazon sky, the observation deck on both ends of the Aqua Nera is the highest vantage point aboard the cruise ship and the ideal place for guests to observe life on the river and riverbanks. This is also a perfect spot for photography and birdwatching when the ship sails closer to shore.
Outdoor Lounge and Bar
Admire expansive views of the Amazon with a cocktail or two at the outdoor lounge areas, which are located at both the bow and the stern of the cruise ship and outfitted with comfortable loungers. Or sit barside and strike up a conversation with our friendly bartender. Plenty of shade is offered at the bow lounge area, thanks to Aqua Nera's soaring sun canopy that also provides shelter to the ship's river-facing plunge pool.

In the evenings, Amazonia's legendary sunsets draw guests to the open-air decks. Return to the outdoor lounge after dinner for stargazing, outdoor cinema screenings, or endless conversations as the river settles into a soothing peace and quiet.
Indoor Lounge and Bar
With an inviting ambiance tastefully blending modern and classic elements, the Aqua Nera's indoor lounge is the focal point of the top deck for social activities. Luxurious lounge sofas let guests relax in air-conditioned comfort while sipping on the drink of choice from the bar.
Dining Room
Pair the Amazon's stunning scenery with chef Pedro Miguel Schiaffino's show-stopping cuisine at the refined Dining Room, stylishly adorned with colorful accents from the Peruvian culture. Choose to make dinner date night, or dine family-style as we deliver a five-star dining experience from start to finish.
Private Screening Room
Enhance any Amazon river cruise journey with our selection of classic films about this exotic region. Our cruise director will be happy to organize a private screening for up to ten guests here or on the Observation Deck.

The Private Screening Room also sees guests gather for private lecture, videos, and documentaries to learn about the fascinating cultures on their Amazon river journey.
Outdoor Pool
Let the jacuzzi plunge pool's cool soothing waters take the edge off Amazonian heat after a jungle or skiff excursion. Located at the bow of the Aqua Nera, the outdoor pool is well shielded from the elements with a canopy and places guests in a commanding position to soak in the majestic panoramic vista of the Peruvian Amazon.
Gym
Love your next cruise ship workout at a gym that faces out to the Amazon river with full-height windows. The gym is also comprehensively equipped with essential machines and free weights.
Spa
Indulge in therapeutic relaxation with a body massage at our onboard spa designed with privacy and tranquility in mind. Let our experienced therapists work wonders to rejuvenate your mind and soul, or simply to relax your muscles after a day out on the Amazon. Both single and couple spa suites are available.
Library and Games Room
Immerse in the finest literature about the region or play a game of pool on our exquisite glass and wood table. The library and games room on the Aqua Nera is the ideal place for quiet contemplation.


CUISINE

Offering an world-class dining experience on an Amazon's most luxurious cruise ship
On the Aqua Nera, our partnership with chef Pedro Miguel Schiaffino continues. Expect sumptuous and refined Peruvian cuisine orchestrated with native Amazonian ingredients that impart a multi-sensory dimension to your journey unlike any other cruise.
Taste the Amazon with five-star cuisine by chef Pedro Miguel Schiaffino
A born and bred Peruvian, chef Pedro Miguel Schiaffino is known for being one of the first culinarians in his country to put local cuisine on the international map by bringing out the best of Peru's regional flavors. Since 2007, he has partnered with Aqua Expeditions as Consulting Chef on board the Aria Amazon, overseeing the onboard menu and dining experience.
Rainforest-to-table Amazon cuisine
Since 2001, chef Schiaffino has been studying the food and cooking traditions of Amazonia, working beyond the kitchen with anthropologists and environmental scientists. Calling the rainforest his "natural habitat", chef Schiaffino has cultivated a knack for skillfully incorporating sustainable produce and ingredients from the Peruvian Amazon into this cuisine. In fact, 70% of all ingredients used in chef Pedro's dishes on board the Aria Amazon are sourced here.
"When I hear from friends in Iquitos or villagers along the river about an unfamiliar dish or ingredient, I would start asking questions. Starting in Lima, I speak to anthropologists and other experts. Then I'll go to the Amazon, sometimes heading off on a speedboat for eight hours or more in search of ingredients to taste and experiment. It's amazing how the Amazon constantly offers up tastes and flavors I've never imagined before." — Chef Pedro Miguel Schiaffino
Chef Schiaffino's commitment to excellence lets him transform uncommon ingredients into captivating, authentic dishes that deserve their place alongside well-known Peruvian favorites such as ceviche. On board the Aria Amazon, guests savor dishes such as hearts of palm soufflé, scallops with wild almonds and umari fruit, plantain, and yucca gnocchi, escolar fish in aji panka chili adobo, grilled paiche with Amazon huatia potatoes — the delicious results of chef Schiaffino's culinary mind.
Awards and Honours
With his dedication to the craft, chef Schiaffino has earned global recognition, including from The Diners Club World's 50 Best Restaurants Academy for his innovative Amazonia-influenced cuisine at MALABAR and Amaz, two of his restaurants in Lima. On the Aria Amazon, chef Schiaffino's regularly changing menus tap on the freshest produce available on Aria Amazon's sailings, including line-caught paiche.
In 2006, the Government of Peru honored chef Schiaffino with the "Manka" for his contributions to the development of Peruvian cuisine. The creativity of his restaurant MALABAR was highlighted in 2009 by Food & Wine magazine as one of the twenty most interesting culinary experiences on the planet, and in 2010 his Bar was elected one of the 10 best in the world by the same publication. That same year, La Academia Internacional de Gastronomía recognized his work with the Chef L'Avenir Award.
SUITES
Experience exquisite luxury comfort styled in Amazonian tranquility
Award-winning architect Noor Design draws inspiration from the peaceful blackwater lagoons and tributaries of the Mirrored Forest of the Peruvian Amazon to craft an aesthetic for Aqua Nera's suites that are impeccably stylish and inviting.

Presenting 20 Design Suites (including 4 interconnecting suites), your accommodation on the most luxurious ship in the Amazon features premium fittings and bedding, as well as full air-conditioning and full-length windows to gaze at the endlessly enthralling panorama of the Amazon river and rainforest.
Design Suite specifications
20 spacious and luxuriously-appointed 322 square feet (30 sq m) Design Suites, two 644 sq ft (60 sq m) interconnecting suites

Deluxe ensuite bathrooms with dual sinks and spacious walk-in shower plus overhead rainshower

Pampering natural organic hair and bath amenities

Premium California King size beds, twin bed configuration available

Floor-to-ceiling panoramic view for all suites

Interior sofa for all suites

Large double closets with chest of drawers and electronic safe

Full air-conditioning in all-suites

Music docking station

Professional hairdryer
Suites tour
Design Suite layout
Besides being incredibly spacious, our suite's layouts are designed to maximize space, optimize movement and enhance natural light. Passengers who need walking assistance can navigate our rooms and bathrooms with ease.

Our suites can each accommodate a maximum of three guests (interior sofas can be combined to form a bed), with a maximum cap of 44 guests on board the vessel.

All individual suites measure 322 square feet (30 sq m), inclusive of ensuite bathroom and closet space.
Bed dimensions
California King size bed: 2.1m (w) x 2m (l)
Single Twin Size bed: 1.05m (w) x 2m (l)
Interconnecting suites
Be it for larger families or to attain an ultimate experience of luxury, our interconnecting suites are the best choice for guests who desire more private space on the Aqua Nera.

Eight out of our 20 individual Design Suites on board the Aqua Nera can be combined into four interconnecting suites via a sliding door. Each interconnecting suite can accommodate up to six guests.

For the ultimate romantic cruise, our interconnecting suites offer the luxury of having one suite configured as a living room, while the other as the master bedroom with our sumptuous California King bed. Enjoy his-and-hers baths and the magnificent grandeur of a 640 square foot (60 sq m) residence on the Amazon.
DECK PLAN

Spread across three decks, the Aqua Nera expresses the beauty of the blackwater Amazon with expansive social and amenity spaces

Observation Deck

The place to unwind and socialize with key amenities designed to take in the most of Amazon's stunning views.
Second Deck
10 Design Suites measuring 322 square feet (30 sqm). Option of two pairs of interconnecting suites. The second deck also houses the boutique, galley and dining room.
First Deck
10 Design Suites measuring 322 square feet (30 sqm). Option of two pairs of interconnecting suites. The first deck also houses the spa and infirmary, as well as the launchpad for excursions.
Enregistrer ce produit pour plus tard
Afficher les prix en :
EUR